Bali Babysitting and Bali Nanny Service
Founded in 2012, we have been operating in Bali for 10+ years and are very proud to have an excellent reputation!
We know the level of care you expect for your children, so our standards are very high and we ensure that your children will be cared for by professional and reliable babysitters and nannies.
We understand when going on holiday in a foreign country that safe and warm care of your little ones is very important. For this reason, we will always check your booking and pair you with the best nanny we can for your family.  We have a dedicated team on the ground in Bali and are hands on with every single booking and arrangement we make for your family. Often going above and beyond to support you and your family while you are in Bali, whether someone is ill, needs advice or support or even just local reccomendations!
We only keep the best nannies on our team and insist all of our nannies are trained and have extensive experience working with western children.
Furthermore, they must understand little people and be able to connect and gain thier confidence and trust!
Safety is our number 1 priority as is cleanliness and hygiene. We specialise in baby care and children under 10 yrs. But we are also happy to supervise older children too.
Most importantly, our Bali Nannies & Babysitters understand the importance of children not consuming the water in Bali.
** We have completed over 10,500 bookings in Bali in 10 years.  Recently we have noticed several start-up /copy cat business's off the back of our success. Please be VERY wary of who you are booking with, as it takes lots of local support and quality assurance to run a business like this in Bali. So many families contact us with disaster stories.

For peace of mind, If we do not have availability we will send you through some recommendations.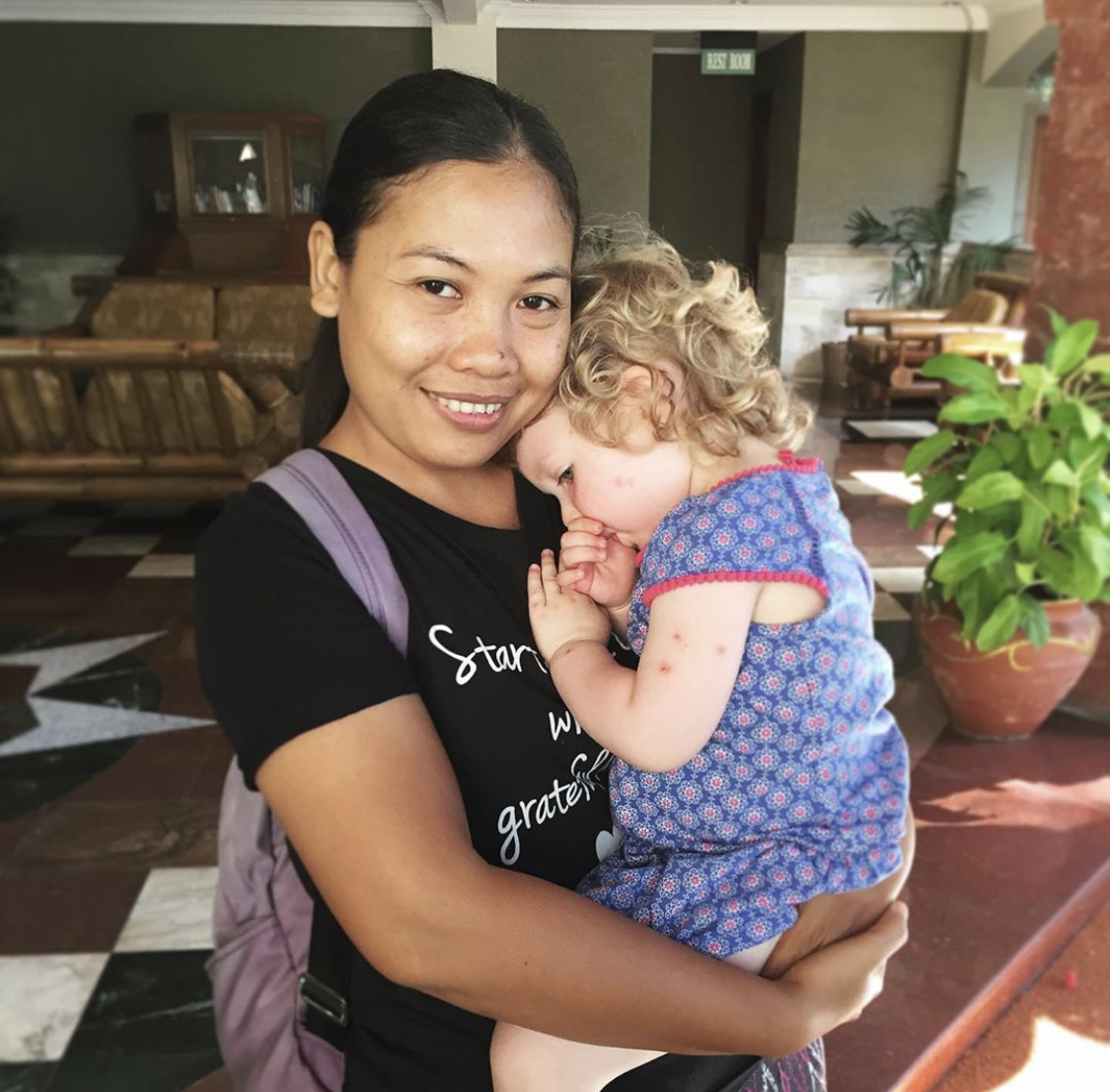 Bali's Best Babysitting
We have your best interests in mind
Individualised Care (Allergies)
We understand Western Culture
Our nannies speak English
Safe, fun and creative play
Fair and equitable working conditions
Our nannies can swim!
Nannies are Adv First Aid trained
We want you to enjoy your holiday!
Our Nannies
Nannies are available in Kuta, Legian, Seminyak, Sanur, Nusa Dua and surrounding tourist areas. Other areas such as Ubud and Uluwatu can be arranged subject to availability. ** All bookings outside the main tourist areas will incur a small transport charge.
All of our nannies are:
English Speakers
First Aid & CPR Trained
Experienced with western children
Warm & Caring
Non – smokers
Reference Checked
Police Clearance (confirmed on employment)
National ID's
Nannies that can Swim!
Our business is a family …

For many years travelers had been traveling to Bali and the Babysitting and Nanny services had been very inconsistent. This was a constant frustration when travellers were looking to enjoy your holiday and you are worried about who is caring for your children. We had experienced these frustrations ourselves and discovered one of the reasons this had been occurring is that the rate of pay was very low and the working conditions for Bali nannies were not very good. We set about developing Bali's Best Babysitting and Nanny Service to provide other travelers with children (like us) a professional childcare service.
Additionally, we were able to reward nannies who provided excellent services with well paid, fair and equitable working arrangements. The business has grown so much over the past 10 years that we are now one big family! We actually have 10 sisters that work for us …..
Since working for us, we are proud to say that we have seen our nannies / staff become independent, financially stable, happy and healthy!

If you are looking for a Bali Babysitting or Bali Nanny service that offers the very best care, you are in the right place!

OUR PHILOSOPHY
In a caring and positive atmosphere, Bali's Best Babysitting and Nanny Service creates a safe and happy environment for infants, toddlers and older children to thrive and enjoy their time in Bali. We encourage safe, fun and creative play whilst in our Nannies care. Bali is the island of love and our nannies will be warm, happy and loving with your children.

OUR MISSION
Bali's Best Babysitting and Nanny service aims to provide our customers with the highest standard of service and peace of mind while holidaying / living in Bali. We seek to provide a service equal to or better than the services available in western countries as well as getting to know each child and care for their needs with the best interests of the parents and children in mind.

YOUR WAY
While your children are in the care of our Bali Babysitting and Bali Nanny Service, we do things your way. We will always ask you about the child's routine at home and continue with that routine where possible. We ask that you provide us with as much information as possible about the children, their likes and dislikes and what you would and wouldn't like them to participate in to assist our Nannies in caring for your child.
We are so thankful to have found Bali's Best Babysitting and fabulous nanny Ani. We were lucky enough to have booked Ani as a nanny for 11 days on our recent holiday in Seminyak.
Ani was wonderful with our two daughters, aged 12 mths and 3 years old. She was very professional, caring and trustworthy. She was always punctual and replied to all text messages quickly whenever we were out which was very reassuring for us. Our girls loved her!
My husband and I were able to go out to dinner every night as we knew our children were in safe hands with Ani looking after them. It was our first trip to Bali and it was such a fabulous holiday! We will most definitely be booking another holiday to Bali and definitely using Bali's Best Babysitting (and hopefully Ani!) again 🙂 Thanks So much! "