We are very proud to be Bali's #1 Nanny & Babysitting Service for western tourists traveling to Bali and offer holiday nanny services for families.
Parents of young children ourselves, we have been traveling to Bali for over 20+ years and understand the culture & traditions of this beautiful country as well as the challenges for you as a travelling parent.
We are the ONLY Nanny & Babysitting Service that has been operating in Bali for 10+ years and have completed over 9,500 bookings with happy clients! Over the years, we have filled bookings for politicians, dignitaries, celebrities, the TV & Fashion industry, the Bali expat community and many holidaying families.
We are also the ONLY service in Bali who has a full english speaking (western) management team on the ground in Bali and many references from Australian Families that have used our services time and time again and are repeat customers. We understand the importance of leaving your children in the care of a quality service with mature, reliable and responsible carers. We will provide you with valuable information prior to your travel including emergency contacts, packing lists and things to do with the children.  We also have processes in place for all situations you may encounter.  Feel free to browse our References.  
All of our nannies are handpicked and personally interviewed by us and meet a strict criteria prior to being employed. We seek feedback from every single booking and only keep the best nannies on staff!
Because we are the best at what we do, our nannies are dedicated and loyal and have been with us for a long time, we are proud to say they would not work for anyone else!.
Our priority is to make not only your children feel comfortable, safe, happy and well cared for but also to make you, the parents feel comfortable leaving your child/children with us . We understand how nervous you may be leaving your children with strangers and possibly for the first time! 
Safety is our #1 focus and constant training reminds our nannies that this is their main focus along with the health and well being of your children. Our fair and equitable working conditions ensure that we employ the best nannies available.
Because we understand the risks in Bali, for various reasons we advise against using an independent freelance person / babysitter, even if recommended by someone else. What happens if the nanny cancels on you or doesn't turn up? How can you be sure they are trustworthy with your belongings? Is there a management team that you can talk to for advice or help in these situations? Are emergency processes in place or processes if something goes wrong? Is First Aid training conducted annually and up to date (not just once, a few years ago). Are you sure the nanny turning up is who they say they are? (this is a common issue with independent freelance sitters). We have the controls and processes in place for all of these concerns and more and have taken the hard work out of it for you.
Our nannies have a long history of working with Western Families and are;
friendly, warm & caring
speak english well
good personal health & hygiene
police checked (SKKB) & reference checked
first Aid & CPR Trained annually (to Australian Standard) on a yearly basis at BIMC (Bali International Medical Centre) by a Dr
regularly trained in western day care & hygiene – by a qualified trainer
understand the importance of not drinking the water
Take the opportunity to do a little shopping, spend some time with your partner or just get a helping hand. Our nannies are also happy to accompany you to the theme parks in Bali to help with your family day out!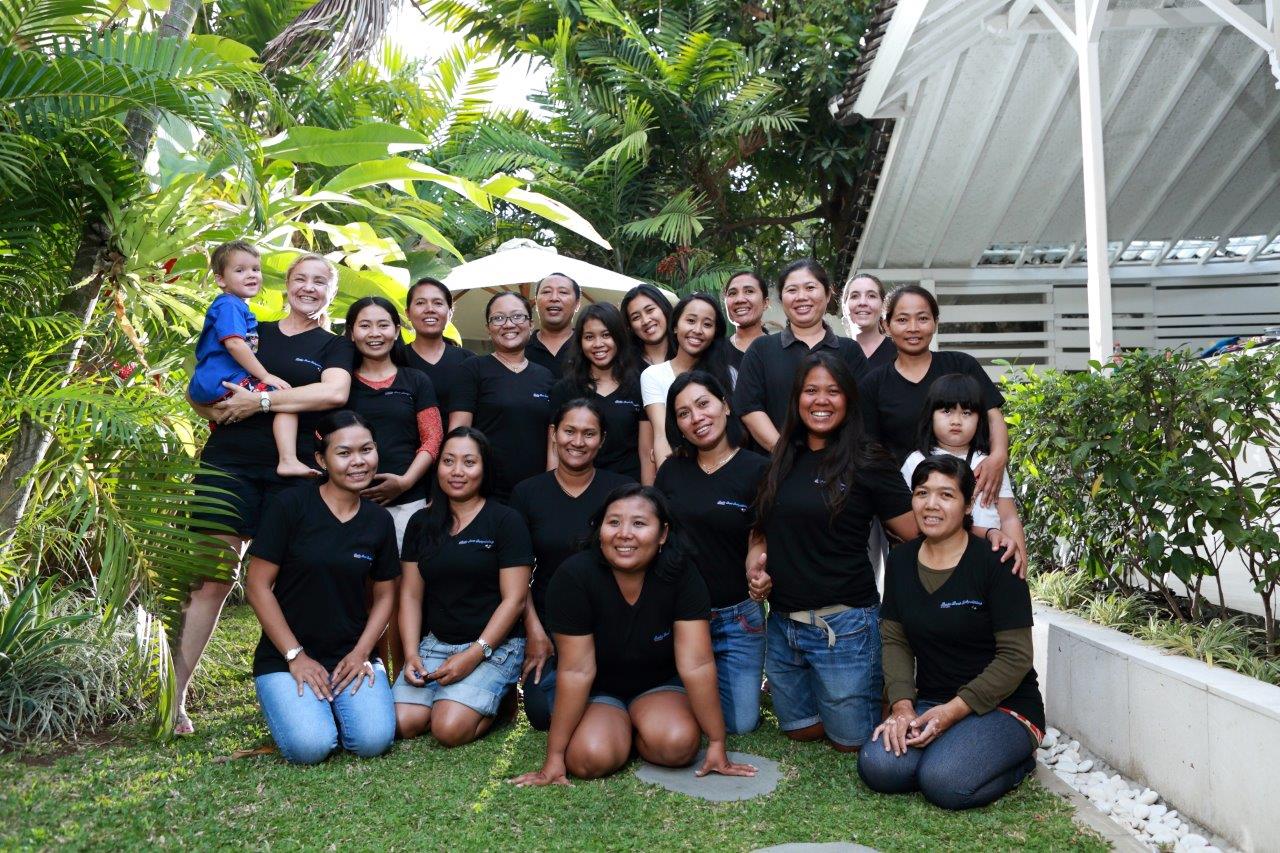 Special Needs Children & Allergies
**We are very experienced with special needs children and children with Allergies
Our nannies are warm and caring and have lots of experience caring for special needs children and children with allergies. Yearly first aid training teaches our nannies how to administer medication and epi-pens if necessary for children with allergies.
Pricing
Our price per hour is dependant on the number of children and your individual needs and range between $6.50 – $12.50 per hour. Some areas of Bali attract a small daily travel fee.