Packing List for Babies, Toddlers & Kids in Bali !
One of the top get questions we get asked …. what do I pack?
check out this comprehensive list below …
What to pack:
Essentials
• Nappies – Take night nappies, you can but a brand named "Mammy Poko" for day time needs
• Swimming Nappies
• Formula – Take plenty as formula is not readily available in Bali (make sure you have extra for your plane flight)
• Milton Tablets – these can be used to sterlise bath water, bottles and eating utensils
• Childrens Panadol / Nurofen
• Telfast / Claryntine for babies
• QV Wash / Lotion / Baby wash / shampoo
• Sunscreen – the sunscreen in Bali is not good quality
• Mosquito Spray / Gel – Bring this from home or buy Utama Spice Kids Mosquito cream in Bali
• Nail Clippers (babies nails can grow so quickly)
• Anti-Histamine Cream (itch stop etc)
• Spare Dummies
• Dummy clips
• Bonjela
• Little Eyes – Baby eye wipes (Chemist Warehouse)
• Fess Nasal Spray and sucker
• Bathers (rash shirts long sleeves) and hats – The sun is harsh
• Hats – The sun is harsh
• Muslin Cloth – to cover the pram and use as shade
• Snap Lock Bags – These are so handy and you will use them for everything!
• Empty Water Bottle / Drink Bottle – keep your little ones hydrated
• Snacks from home – take some small snacks from home with you for familiarity (see Baby & Toddler Food below)
Good quality Power Board to charge all your devices!

Power Adapter – Indonesia uses European-style two-pin round plugs
Clothing
• Bonds long sleeve onsies (A few as we let them sleep in these because of the air-con)
• Mosquito Nets (you can purchase these on ebay just in case you need them for the pram or the porta-cots
• Clothing – If it is hot they honestly don't really wear many clothes .. you can take a couple of rompers…. bonds short sleeve onsies, shorts and singlets…. but they just wear nappies most of the time…. it can be very hot!!! So don't pack many baby clothes.. honestly it will be a waste!!
• Dummy Clips
• If you have toddlers and are staying 7 days, pack 9 days worth of clothes. They only need thongs and 1 pair of sneakers etc. 2 pairs of pyjamas is a good idea when you send 1 pair out for washing.
Good to Have
• Baby Bjorns – these can be very handy on the plane etc
• Bed Sheets – We didn't pack these however it was recommended to us to take our own….
• Baby Sleeping Bags – we took our sleeping bags which were 1.5 and slept them in a long onsie with no bodysuit… this was based on the air-con. Kids can be comfortable in their sleeping bag and knew that it smelt like home..
Food
• Baby Food – It is good to bring a few snacks from home but www.minimuncher.com can deliver all your baby & toddler food directly to your hotel or villa. The food is fresh, organic and tastes amazing! This is your best option in Bali as the commercial baby food is very poor and there is not much variety
• Snacks from home – take some small snacks from home with you for familiarity
Medication
Baby & Children panadol and nurofen
Antihistimines / Insect Bite cream
Liquid Prednazone – this is very hard to find in Bali ! If you get stuck you can buy a steroid puffer (purple one). If your child suffers from Croup, you will want liquid prednazone on hand. Croup can be activated by the air con and new smells and pollens!
Asthma puffers
Epipen's – these are very hard to find in Bali !
Don't bring it with you – hire it & save your luggage allowance!
• Strollers. We didn't take our proper pram because we didn't want it to get ruined…. I encourage you to hire these from our trusted supplier www.balibaby.com and because the lack of footpaths – yours will stay undamaged and in tact
• Toys – We packed a few essential toys / chewing toys but you can hire these from www.balibaby.com
• Bottle Steriliser / Microwave – you can also hire these from www.balibaby.com
• Car Seats – Taxis and Drivers do not have these. You can hire them from www.balibaby.com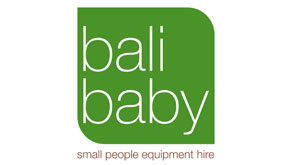 Villas – Unfenced Pools
If you have hired a villa for your trip to Bali please check if it is safe for your little ones.  There has been many deaths in Bali because of open water ways in recent years and whilst full supervision is best, these things do happen. For peace of mind, you can hire your pool fence from www.balibaby.com for a very reasonable rate per day / week. Please don't risk an accident.
Bigger Kids (the following are suggestions)

If staying 7 days, clothing for around 9 days (1 x jumper / jacket for cool nights)
Thongs / 1 x sturdy shoes
Nintendo DS / Small travel games / ipad or tablet plus chargers
Drawing / Colouring Books
Small cars / Toys / Barbies
Empty Water Bottle
Books
Card Games
Blow up pool toys / deflated ball and pump